New Kids on the Block: Since Ossipoff and the midcentury, new technology has enabled designers to create impressive, eco-conscious spaces.
From the winter issue of FLUX Magazine. For the best reading experience, please go here.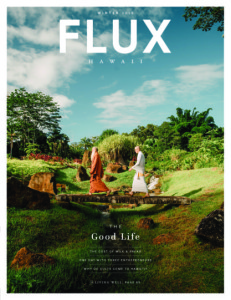 When the Honolulu Museum of Art mounted the exhibition Hawaiian Modern in 2007, it solidified Vladimir Ossipoff as Hawai'i's preeminent architect.
Famed for his sensitivity to place, Ossipoff designed more than 1,000 buildings in and outside of Hawai'i during the middle of the 20th century, including Punahou's Thurston Chapel, Outrigger Canoe Club, Honolulu International Airport, the IBM Building, and dozens of private residences, his most famous being the Liljestrand House, set high upon Tantalus, an accepted masterpiece of midcentury modern design.
Especially in his residential work, Ossipoff, who was born in Russia and grew up in Japan, popularized the notion of blurring indoor and outdoor space, and of designing for Hawai'i's climates, creating a tropical modernism that fused Eastern and Western influences into something distinctly Hawaiian. Here was a foreigner who, nonetheless, captured something true and inalienable about this unique place.
Today, bolstered by the unflagging popularity of midcentury modern architecture, both locally and worldwide, Ossipoff is name-checked in books, retrospectives, and casual conversation, dominating lists of Hawai'i's best architecture, and inflating the prices of homes he is even rumored to have had a hand in designing. Ossipoff looms so large in Hawai'i's consciousness that he tends to overshadow the designers currently shaping its built environment. Some worry that fetishizing his work will overshadow the fact that architecture has come a long way in the past 20 years.
"I think Ossipoff is great," says architect Craig Steely, who splits his time between Hawai'i and San Francisco. "But for people to think that that's as good as it gets, I think that's a mistake."
As it was in the 1960s, Hawai'i's built environment is being radically reimagined. For some, the soaring towers redrawing the city's skyline exemplify architecture's enslavement to the elite. But a survey of contemporary housing throughout the islands reveals a diverse roster of highly creative architects who, whether they call Hawai'i home or not, are looking past the vaunted touchstones of the 20th century to find inspiration in both pre-contact Hawaiian architecture and the gritty urban fabric of 21st century Honolulu.
GLASS, STEEL, AND CONCRETE
At first glance, the clean, volumetric homes in Steely's Lavaflow series have little in common with the thatch-roofed hale, but the seven houses, including Steely's own (Lavaflow 2), were inspired by the structures of early Hawai'i. "Really, what it was about was protecting yourself from the rain and the sun—with whatever was available," Steely says of early Hawaiian architecture. "And I still go back to that premise when I'm doing the projects I'm doing. The less you can build the better."
Steely first came to Hawai'i in 1998. A year later, he bought his own slice of Hawai'i Island, just south of Pāhoa, and designed a small, sparsely furnished outpost for himself and his family amid a lava field (the first four of the Lavaflow series houses on Big Island were in such locations). Since then, he's become passionate about educating the public on the value of good design. He gets annoyed when people attempt to conflate "historic Hawaiian architecture" with "plantation style," i.e. stick-framed houses with deep eaves and hipped roofs. "Plantation style is essentially East Coast architecture that was brought in by the missionaries," he says. "At its most benign, it's just transplanted. But at its worst, it's really a symbol of exploitation."
Steely's homes make heavy use of concrete and display a modern sensibility that has earned him repeated exposure in the pages of modern design magazine Dwell. Yet they respect the land by sitting lightly upon it, oriented to take advantage of natural breezes and equipped to capture rainwater.
Thanks in large part to Ossipoff, the idea of blending indoor and outdoor space has become commonplace in Hawai'i, but Steely tries to emphasize the lānai as the primary living area by selecting higher-quality finishes outside versus those utilized inside. He believes even his use of certain modern materials honors the Hawai'i of old. "In a way," he says, "the concrete houses and the steel houses have more to do with old Hawaiian architecture [than plantation-style houses] because we're building with fewer parts."
Building technologies also have evolved since Ossipoff's time, allowing architects to design longer-lasting structures. "Materials have gotten so much better," Steely says. Architects can, for example, design a luxury residence that's completely off the grid, which is what Steely is doing on a remote site along the Hāmākua Coast. The home's massive, triangular roof is covered in solar panels that will generate all necessary electricity, while rainwater is directed to an interior courtyard, and then stored in an underground tank for future uses like irrigation.
Others are using technology to push architecture into new places, designing structures that weren't possible 20 years ago. For example, Bohlin Cywinski Jackson, one of the best-known architecture firms in the United States, designed a guesthouse and art gallery for a historic residence along Diamond Head Road. As a counterpoint to the existing home, a wood and stone masonry house designed by C.W. Dickey with wide roofs and deep eaves, the architects created a three-story, glass-enclosed studio joined via a glass bridge to the art gallery—an angular, double-curved volume clad in copper tiles that reinterprets Hawai'i's ubiquitous double-pitched roof.
Nate Smith, the project manager who oversaw the construction, says it was one of the most complex projects he has worked on, due to the complex geometries of the double-curve. "It was like building a football," he says. But even such sophisticated architecture, if it's good, is subservient to the site, says Robert Miller, who led the design of the project, known as Waipolu Gallery, from Bohlin Cywinski Jackson's Seattle office. Despite its bold shape, the gallery allows visitors framed, unimpeded views of both Diamond Head and the ocean simultaneously. "Diamond Head becomes a piece of art, and the ocean becomes a piece of art," Miller says. "It just happens to be changing as you're watching it."
TRICKLING DOWN, TRICKLING UP
Currently, Bohlin Cywinski Jackson is involved in a much larger residential project: Ae'o tower in Ward Village, which broke ground this year. Honolulu's new high rises have drawn both support and ire from the public, but they also have increased the visibility of architecture in Honolulu, where so much high design is hidden behind copper gates or impenetrable thickets of bamboo.
Smith sees promise in the premium that Kaka'ako's developers have placed on design, and is counting on it having a trickle-down effect. "As you move from oceanfront back a block, you hope that [developers] don't lose that level of [detail] and sensitivity to culture," he says. "You hope that you get something special, that you can sit in that window and feel like somebody thought this through and  wasn't just trying to make a buck."
A couple miles from Kaka'ako, on a weedy residential lot in the McCully-Mo'ili'ili neighborhood, a very different experiment is underway. Currently under construction, Hau'oli Lofts is a modest yet thoroughly modern nine-unit condo building that stands in sharp contrast to the highly curated, master-planned mini-city being built along the waterfront. The project is the brainchild of Wei Fang, cofounder of the design-advocacy organization Interisland Terminal, who enlisted Tadpole Studio, a four-person architecture firm based in Honolulu, to design it. Carefully slotted into the dense, urban community, the building embraces Hawai'i in surprising ways.
Often, when architects talk about creating a "Hawaiian sense of place," they evoke an older, purer Hawai'i. But Bundit Kanisthakhon and Janice Li, who founded Tadpole Studio in 2001 in Bangkok before moving to Hawai'i, looked to Honolulu's urban fabric for inspiration for Hau'oli Lofts. In its design, they incorporated elements from the surrounding neighborhood, including a decorative square concrete block detail reflecting that of an adjacent apartment building and thin concrete sunshades inspired by the façade of the Okahara Saimin Factory next door.
Hau'oli Lofts presents a sort of trickle-up approach that feels democratic and egalitarian, an acknowledgment of the existing community and the simple intelligence that is sometimes embedded in the city's seemingly insignificant buildings. "It's lasted this long," says Kanisthakhon of the concrete block he and Li incorporated. "The neighborhood uses it. Why not learn from them?"
The building is also uniquely Hawaiian in another sense: Nearly every piece of the structure has been manufactured on O'ahu. The concrete slabs were cast in Kapolei, the windows in 'Aiea, and the metalwork and cabinetry were fabricated in Kaka'ako. Kanisthakhon compares it to food: "We use local ingredients," he says.
Of course, Ossipoff also famously used local carpenters. But today, Hawai'i has a thriving community of young artisans that Tadpole hopes to grow. "Without that, this island is going to keep relying on the craftsmen that come from the mainland," Kanisthakhon says. "There's not going to be any homegrown design or details."
EXPERIMENTAL HOUSING
One thing that hasn't changed in the past 50 years is that the right client can make all the difference. (Howard and Betty Liljestrand spent 10 years looking for the property that would eventually become their home.) Several years ago, Collaborative Studio's Cathi Ho Schar was hired by one of the most unusual clients she had ever met. His name was Mark Ariyoshi.
Ariyoshi, a designer himself, had recently moved back to Honolulu from Tacoma, Washington. His family owned a lot in Kaimukī, but the existing cottage on the land was falling apart. He wanted to build a new house, but he also wanted his efforts to benefit the community. So he turned the building of his home into a design competition.
"Mark was really strategic," says Ho Schar, who also teaches at the University of Hawai'i School of Architecture. "Private residences are typically very inward focused, self-centered, [but Mark] had a mission statement for his home. It wasn't just, 'I want a house for myself.' It was, 'I want a house that has a research potential to [explore] how you can integrate modern, sustainable, affordable design in Hawai'i.'"
Collaborative Studio won the job and scrutinized every possible construction method, eventually designing a wood-framed house that is anything but traditional. They engineered the house to use 30 percent less lumber, strategically spacing out the studs and wood trusses. They raided Re-use Hawaii for reclaimed materials, including 2,000 square feet of Punahou School's old gym floor, and they left much of the unfinished plywood exposed.
The resulting architecture is sparse but appealing. It's clean and bathed in natural light, but also warm and singular in its idiosyncratic character. The structure also demonstrates that a low-tech home can be high-performing: With just ceiling fans and operable windows, the home stays cool, even during Kaimukī's hot summers. [Disclosure: The author's father-in-law worked on the project.]
More importantly, the house, which has won multiple awards, was built for just $350,000, a fraction of what an architect-designed home often costs in Hawai'i. Although Ariyoshi was an atypical client, according to Ho Schar, his vision was representative of an evolution that is reshaping the architecture profession, both in and outside of Hawai'i. "You can't be talking about style if you're dealing with homelessness, affordability, traffic, coastal resilience, global climate change," Ho Schar says. "That's the conversation now. The industry had to move. The public mindset had to move."
For younger designers, like the students Ho Schar teaches at UH, these issues have formed a sort of grim reality that has inspired a new, more civic-minded generation of architects, many of whom hope to improve the quality of life for all who call Hawai'i home, not just the mega-rich.
Newcomers are also adding nuance to how the world perceives Hawai'i's culture. "The last generation began to really appreciate Hawaiian culture for what it was," Craig Steely says. "The younger generation has grown up with that appreciation for Hawaiian culture, but they also have an appreciation for Pacific Rim culture. They identify with stuff from California, they identify with stuff from Japan.
Despite these evolutions, or perhaps because of them, no architect working in Hawai'i yet enjoys the level of prestige achieved by Ossipoff. But it may only be a matter of time. "There will be [another Ossipoff]," Nate Smith says. "There has to be. History will tell you that there will be."
And yet the world has changed. It's gotten smaller and more stratified. In Hawai'i, half a century of development has taken its toll—on the environment and people—and architects are increasingly concerned with helping solve some of society's greatest challenges. For many, what matters most are the ideas and the values that drive a building's design, and the degree to which it transcends the physical to become an exploration of a place and its people, and the relationships between the two.
"That's what architecture is," Steely says. "Beyond that, it's just building. It's just a house."